TAN.EASY PRO TOOLS TECHNOLOGY
QUICK CONNECT TECHNOLOGY
QUICK CLICK & SPRAY Quality Connection You Can Rely On
Easily disconnect and connect the Excess, Flawless, and Smart FX Spray Tan Guns using the Tan.Easy Quick Connect system.
No more screwing and unscrewing, your equipment is locked precisely in place ready to deliver the perfect results.
FAIL-SAFE CONNECTION & DISCONNECTION IN TWO STEPS
A: Press down the Quick Connect button with your thumb.
B: Insert one end into the gun, and the other end into the machine. In seconds, you are ready to spray.
EXCESS
Extreme volume for faster, darker application of spray tan. A powerful atomisation for darker results
The 'Excess' Spray Tan Gun transforms skin in an instant designed to deliver more spray tan onto the skin with streak-free results.
Using only 30–40ml (1.5–2 floz)  of solution per body application, it decreases overspray significantly; while ensuring that enough product is applied to the body without creating the 'Orange Effect' that can be caused by too much solution on the skin.
The variable dial allows you to adjust the spray volumes and is ideal for Competition and Event tanning or for faster application and technique.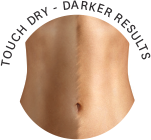 TECHNICAL INFORMATION
Size: W: 145mm/5.7" L: 85mm/3.3" H: 140mm/5.5"
Weight: 190gms/6.7oz
Cup Capacity: 125mL/4.2floz
FLAWLESS
An air-brush flawless finish like no other with an ultra fine, touch dry result.
The 'Flawless' Spray Tan gun is designed to provide an air-brush effect – with super fine, touch dry skin finishing results. This spray tan gun produces finer droplets as an ultra fine mist, this ensures a more even distribution and atomisation of the spray tan solution, creating a more flawless and even tan every time.
It's ultra fine mist can create lines of colour, shade and tan around the contours of the clients body to add definition, great for contouring effects for the body. The variable dial allows you to adjust the spray volumes and is ideal for even, streak-free coverage. With minimal overspray, this is also the perfect salon quality spray tan gun, using only 25–30mL (1–1.5 floz) of solution per body application.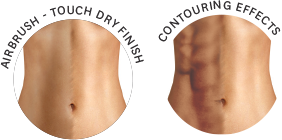 TECHNICAL INFORMATION
Size: W: 145mm/5.7"   L: 85mm/3.3"   H: 140mm/5.5"
Weight: 190gms/6.7oz
Cup Capacity: 125mL/4.2floz
MICRO-WHIRLWIND TECHNOLOGY
REFINED TURBINE TECHNOLOGY FOR THE PERFECT SPRAY TAN
SUPERIOR EFFICIENCY, CUSTOM INNOVATION IN DELIVERING EXPERT RESULTS

All of Tan.Easy Spray Tan Machines feature Micro-Whirlwind Technology that generates a powerful, constant air flow pattern for accurate, blotch-free tanning. The 3D turbine motor of the highest-quality materials generates a powerful and steady airflow. The continuous stream of smooth air has been designed especially for spray tanning the contours of the human body.
THE MOST ROBUST RELIABLE SPRAY TAN MACHINE AVAILABLE TODAY
Tan.Easy has set out to provide a collection of breakthrough spray tan machines, designed to provide experts around the globe with the perfect spray tan. With custom technology found only in these machines, Tan.Easy Pro Tools promise a new standard in professional spray tanning while giving everyone the chance to become the ultimate tanning expert.
AIRFLOW & RPMS
Unlike other spray tan machines, brand new
Micro-Whirlwind Technology delivers a continuous stream of smooth air. Measured by RPM's, the speed of airflow is important for spray tanning. RPM's generates a powerful, constant flow of even air speed needed for streak-free skin results with no blotches.

CLEAN AIR & EXTRACTION USING MICRO-WHIRLWIND TECHNOLOGY
The Tan.FreshAir Series are clean air and ventilation systems using Micro-Whirlwind Technology, perfect for mobile tanners, professional salons or in your home. The Micro-Whirlwind extractions fans help remove the dirt in the air of any room when spray tanning, protecting the safety and health of both the customers and the staff.
Unlike other extraction or box fans, these extraction fans have been designed for spray tanning. The exposed filters are essential so the overspray in the air is extracted and directly absorbed into the filter.
Made with Lightweight materials, the Tan.FreshAir Series of clean air extraction systems works by extracting the moisture (and any troublesome tanning solution) from the air before it travels throughout the room-giving you simply, a breath of fresh air.
CONTACT OUR TEAM OF PROFESSIONAL TANNING EXPERTS